Every Blue Velvet lovers have been probably touched by the moving scene between Dorothy Vallens and his son. In these shots, that symbolically close the film, Little Donny's "beanie hat" seems to be a symbol of purity and innocence : the ones that Dorothy's son still has, the ones that Jeffrey Beaumont has perhaps lost during the course of the picture. And now, in conjunction with the "Blue Velvet 30th Anniversary", you could get the best "Blue Velvet Birthday Gift" ever if you owned this iconic prop !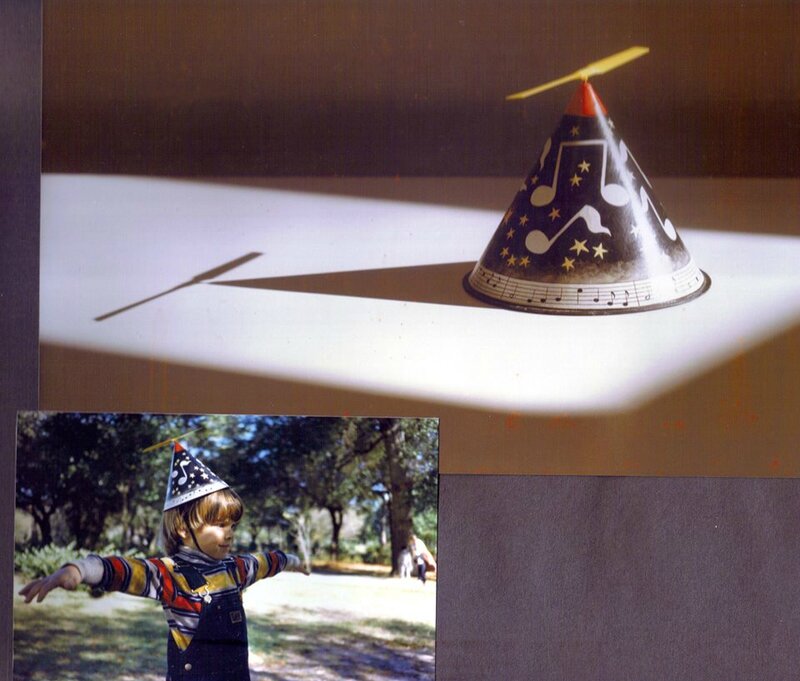 Lynchland has been horoured to be contacted by Michael Jernegan, who designed this hat for David Lynch. As Michael told Lynchland, "I had the distinct pleasure of working on the film production of "Blue Velvet" [under the name "Michael Anderson"]. I was in the art department and worked with the most amazingly creative cast, crew, director and producer ! A milestone event in all of our lives ! And for any "Blue Velvet" fans the actual beanie hat prop from the movie is for sale. I designed it (with David's specifications), I made it, and I still own it. Ready to let someone else enjoy its magic."
If you are interested in purchasing this precious prop, please contact directly Michael on his FB page, Michael is open to your offers. He owns a "Letter of Authenticity" from Producer Fred Caruso stating that this is the prop from the film.
Michael also added that "When I was showing David, and Producer Fred Caruso, the finished hat, I noticed Fred's eyes focusing on the musical notes that run along the bottom of the hat's circumference. He smiled and said, "Those are the notes from the song Blue Velvet". Fred had been a music teacher and noticed. They were, in fact, the song notes and David was thrilled with the detail !"
In conjunction with the 30th Anniversary of Blue Velvet, Michael has also some production stories to tell us about the making of the film. Here is the first one, the lagre winged ants story :
"During production of "Blue Velvet", as the story uncovered more darkness, David wanted to expand upon the idea of insects entering people's homes. He wanted lagre winged ants crawling up the walls. This type of ant is only found in Africa, so he asked the art department if we could take wings from termites and glue them to ants. We tried but found that not enough glue and the wings fell off, and too much glue smothered the ants. So that idea was scrapped !"
---
The Opening Scene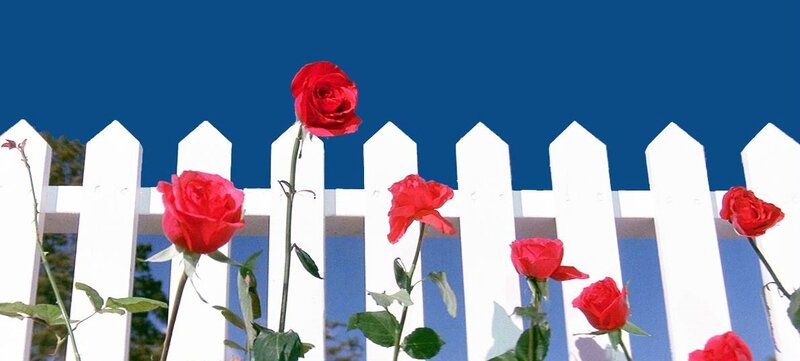 "The iconic image of red roses next to the white picket fence and blue sky ; the opening scene of the movie. When we were going to film that shot it was late October in North Carolina and there were no roses available in local markets or florists. We had to have them shipped to us from an out of state flower market. When the scene was being filmed, there were two crew members holding the fence up in the air (one on either side), and another crew member holding a bucket of roses so we could create the image for the opening shot !"
---
The Skull
"While preparing for the scene where Frank Booth is shot in the face, David wanted to know what the trajectory of brain splatter would look like. So we were asked to simulate this. We had to order a human skull from India, because they are not for sale in the US. The skull was filled with sheep brains and then this was taken to the studio back lot where a gun was fired at it. David was then able to see the distance and pattern of the brain splatter, which was "copied" for the scene of Frank's brains spread across the carpet in Dorothy's apartment.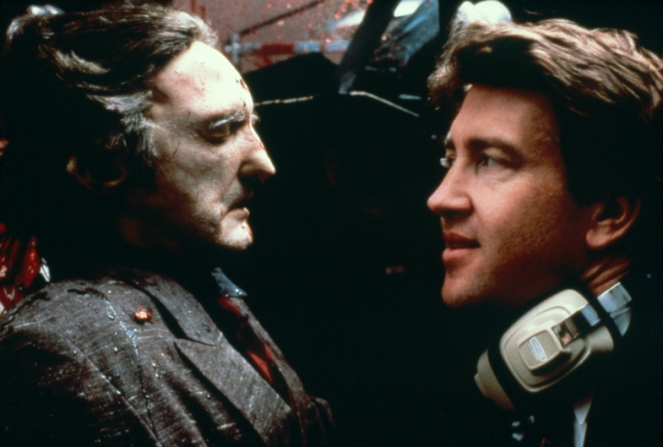 Yes, it was a real human skull, shipped from India. A fellow art department friend recalls it was a female skull. The art department couldn't imagine it [was a real one] either, but it happened. There are so many unique stories about the making of this film that when I'm sharing them with people their mouths are usually open with shock and surprise. I don't recall David being bothered that it was a real skull. He was more interested in the splatter experiment."
---
The Mug
At the end of production of Blue Velvet, Kyle MacLachlan and Laura Dern gave each of the cast and crew members the gift of a white mug with the phrase "It's a strange world" in blue letters.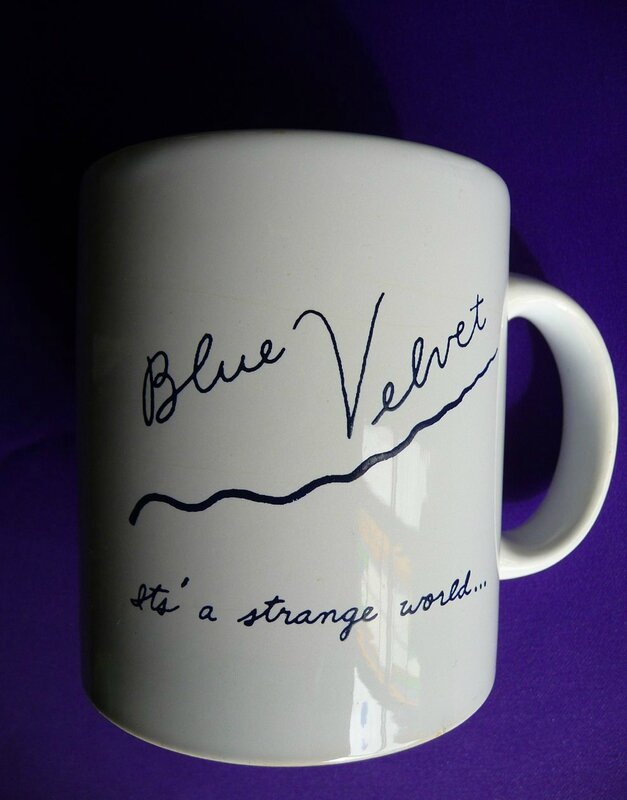 ---
Slow Club Matchbook
"When David spoke with me about designing the sign for the Slow Club, he asked that the letters looked "slow and lazy". There is the Slow Club neon on the set exterior, and for the interior (which was a different filming location), there were menus and matchbooks.
I hand painted each of the matchbooks that were placed in ashtrays on every table. The prop is never visible in the film, but was a great added detail of ambience. The day we were filming the Slow Club scenes, David entered the set, noticed the matchbooks, scooped up a couple of them to put in his pocket for souvenirs !"
Talking about matchbooks, the exact same thing happened during the Luna Lounge shooting in Lost Highway : there were matchbooks as well, never visible either. While I was on the set, I never saw David taking these matchbooks, but you can be sure that someone "scooped up" a couple of them in his pocket : myself !
---
Placing the Ear
David Lynch and Blue Velvet Second Assistant Director Ian Woolf placing ants on the severed ear in a field in Wilmington, North Carolina, in 1985.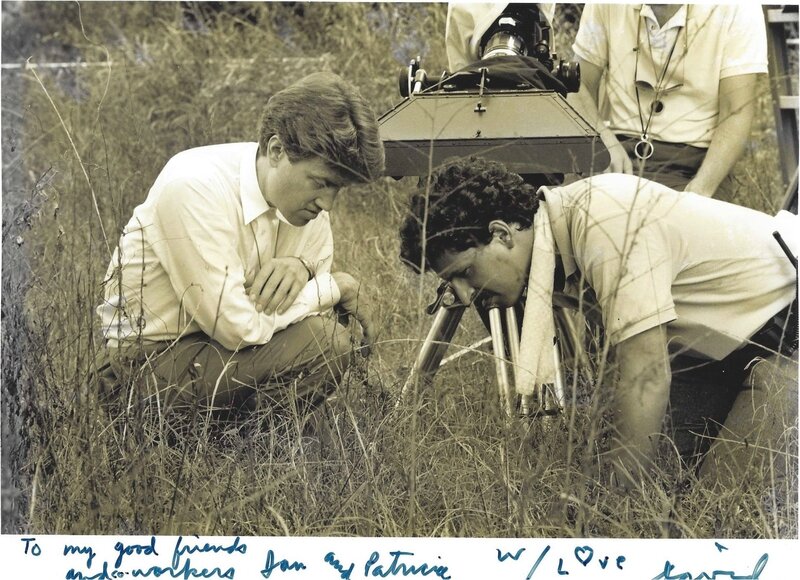 Ian Woolf has shared this wonderful picture with the following great anecdot :
"We kept the ants on ice and then when we were ready placed them on the ear and as they thawed they came to life... forced suspended animation !"
Thanks a lot to Ian to have allowed Lynchland to share this gem with you !
"To my good friends and co-workers Ian and Patricia. W / L<3VE david"
More production stories to follow !
11 avril 2018
« The blue rose is now a part of my own identity », an interview with Chrysta Bell to Lynchland, conducted by Hervé Jouanneau
This is the girl.
In « Twin Peaks - The Return », she is right at the centre of the stage as special agent Tamara Preston. Chrysta Bell is not a new comer as an artist. She is also a singer who has a long time collaboration history with David Lynch. She will play her new album live in Paris on April 18th at « La Maroquinerie » and in Chamonix on April 19th at « Musilac Mont-Blanc festival ».
In this interview with Lynchland, the glamorous Chrysta Bell talks about music and projects, her never released tracks with David Lynch and their relationship on the Twin Peaks set.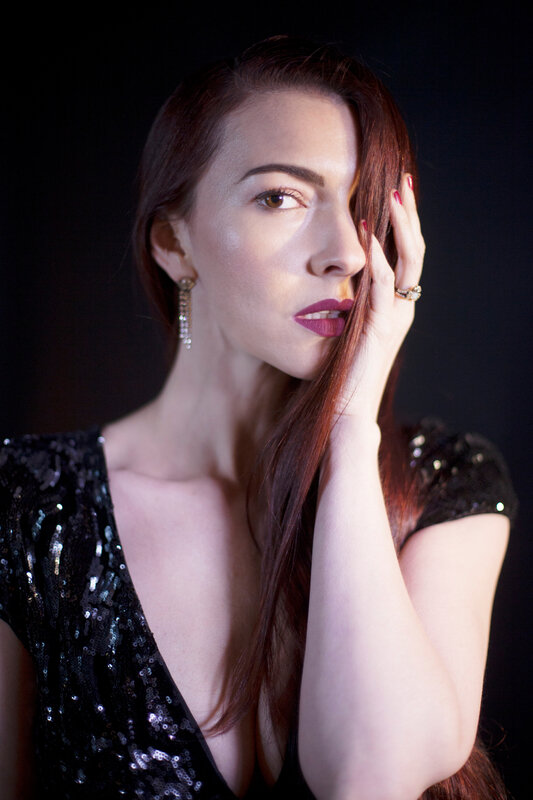 Photo © Keren Fedida
You just started a European tour to promote your latest production, «Chrysta Bell» produced by John Parish. This new EP comes after «This train» (2011) and «Somewhere in the nowhere» (2016) that had been co-written and produced by David Lynch, and «We dissolve» (2017). How would you describe this new release ?
We Dissolve was produced by the phenomenal producer John Parish, and Chrysta Bell was produced by my long time musical collaborator and bass player Christopher Smart, who also happens to be one of my favorite musicians, song writers and musical mood makers. Chris and I wrote the EP in San Antonio and recorded it in Austin, Texas, using exclusively the musicians in my live band. This music is all about the culmination of what I've learned and gleaned after 25 years of being a professional musician and working with some truly incredible artists all over the world, and taking it back to my roots in Texas to make something that was at once raw and ethereal, cosmic and aquatic, intense and fragile. I absolutely love what we created, and I hope to finish the album this summer.

There is a song called «Blue rose» which resembles one of the famous David Lynch mysteries. What is the inspiration for this song and is there a story behind it ?
The blue rose is now a part of my own identity and I feel a deep connection to the idea of it. It's impossibly mysterious, romantic and elusive. It found it's way into my own art.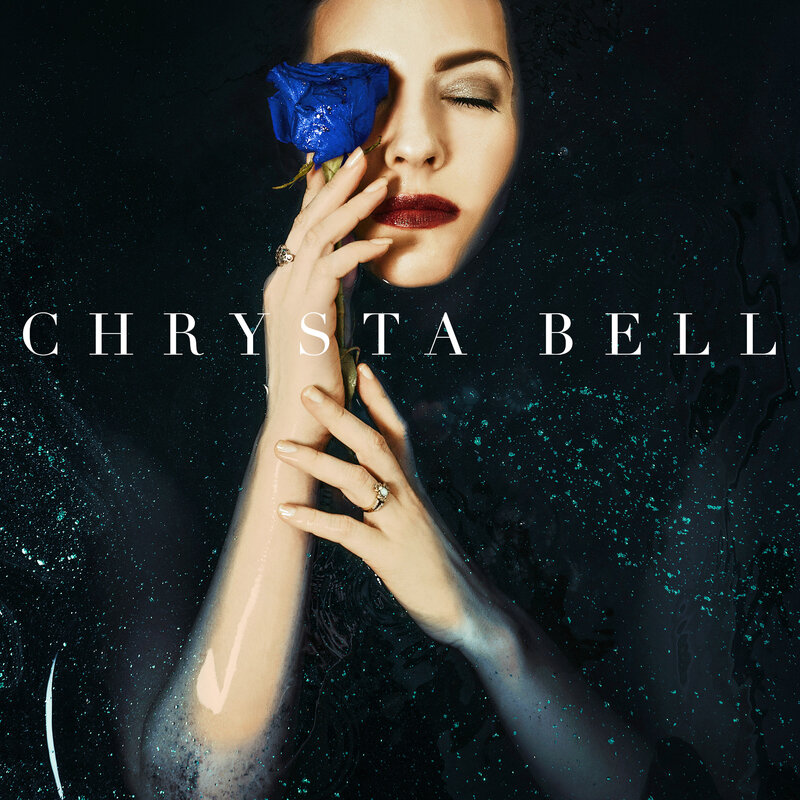 You performed last month in Paris, in a duo with the French enigmatic singer Christophe, who is a great fan of David Lynch work. You sang with him his song « J'l'ai pas touchée» released in 1984. How was it like, meeting and working with him ?
I just love Christophe ! He speaks very little english and I speak even less french but we have a marvelous time together. We have mutual friends and we connected first many years ago. We've always wanted to collaborate ; we are mutual admirers. The opportunity arose when he decided to do an album of duets and asked me to be a part of it. I loved the song and flew to Paris last year to record with him, which was also a wonderful experience.
A couple of years ago, you recorded with David Lynch a never released album of covers called «Strange darling». What about this album many of us were looking forward to and how long do you plan to keep it hidden ?
I don't know about Strange Darling. I'm just not sure how to present it or when or if, sometimes things just work out that way. David was the Executive Producer and it was recorded at his studio. We will see what the future holds. I do love the album.
Chrysta Bell, you made your major acting debut in the 2017 revival of Twin Peaks, as FBI Agent Tammy Preston. The shooting ended two years ago. If you had to remember two or three important moments of the shooting, which ones would you share with us ?
I loved filming the interrogation scene with Matthew Lillard, that was super fun and really challenging. I enjoyed bearing witness to Matthew's intensity as he delivered the lines as well as the way he stayed « in it » between takes to keep the energy in the right place. He really gave it all in that performance and I think he did a great job. I loved finally hearing Diane say « Fuck you, Tammy » after months and months of wondering how that was going to go down. It was very satistfying to finally hear Laura Dern deliver the line, as one can imagine. I also just really loved every moment of acting with and sharing time between scenes with Miguel Ferrer.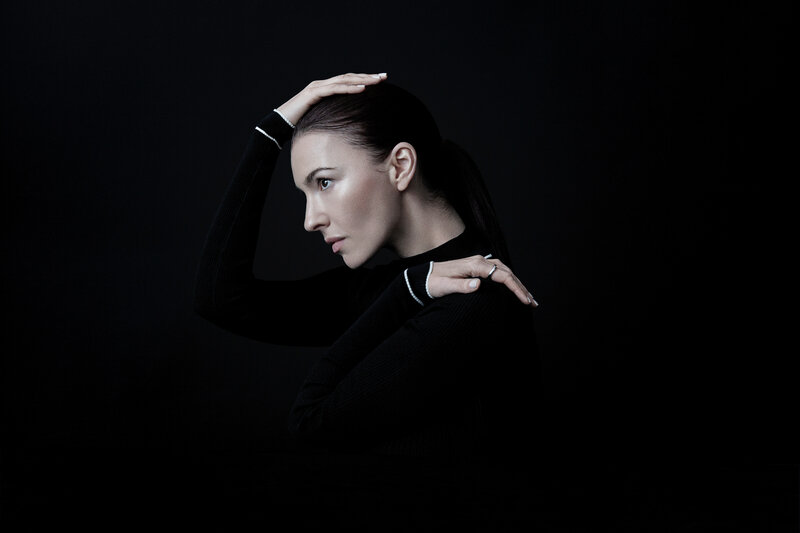 Photo © Ellinor Stigle
On your website, you have posted a very moving tribute to one of your Twin Peaks partners, Miguel Ferrer, who died last year. You also had only great words for your other Twin Peaks colleagues, Laura Dern for example. What does the 'Lynch artists family' look like ? How would you define it ?
I think he chooses big hearts and good people. It's palpable on set that everyone feels honored to be a part of Twin Peaks. No one is full of themselves no matter how big of a star they may be. I think this is absolutely because of the level of respect, appreciation, love and admiration everyone has for David.
What instructions did David Lynch give you for the role of Tamara, if any ? How did you take on the role ?
He told me she was professional, hyper intelligent, and a hard worker. I took on the role in a heart-centered way. I didn't know what I was doing as an actor because I don't have experience doing that professionally on the scale of something like Twin Peaks, but I knew what I wanted Tammy to be after reading the script and I did my best to embody that when we were filming. I wanted her determination, confidence and curiousity to shine through even as she is hazed by Diane and out-leagued experientially by her Superior officers Gordon and Albert.

Do you have some interesting details about David's directing, improvising or requirements for particular scenes you would like to share with us ?
There is no improvising unless David explicitly asks for it. This was a clear directive. I said every line written for Tammy to the letter. The one exception was the smoking scene with Diane, Gordon and Tammy on the stairs. That was completely improvised and not originally in the script in any way. It was the result of an idea that David had between other scheduled scenes that day. It ended up being one of my favorite scenes of the whole show.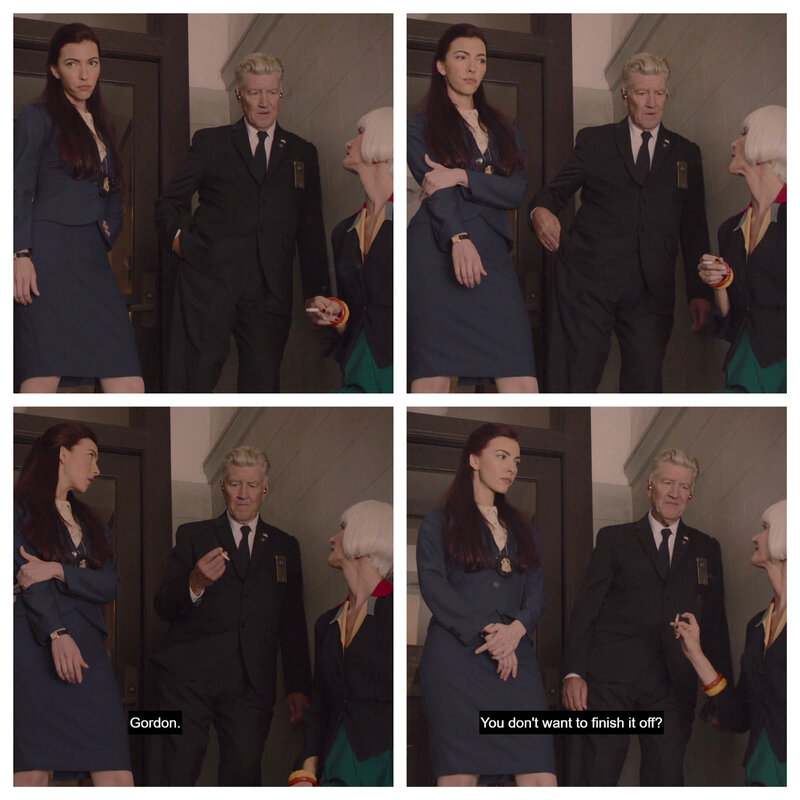 After this Twin Peaks experience, are you interested in acting again ? Have you received any offers of that kind ? Which director would you love to work with ?
I had a very positive experience acting in Twin Peaks. Yes I'd love to do more acting. There are many directors I would love to work with but my top four perhaps would be Jodorowsky, Giuseppe Tornatore, Jean-Pierre Jeunet, Sofia Coppola. Yes some offers have come and I have something in the works I look forward to sharing more about that soon !
15 octobre 2017
GOTTA MAP ?
So there is a graphic alright. And quite a beast it has become in its final installment, but how it came to be is the story about the little boy who lived down memory lane and was faced with a force very difficult to comprehend: the force of Twin Peaks – The Return. It all started around part 8. It was this momentous update on the established Twin Peaks lore with its whole new kaleidoscope of known and not-yet-known spaces (notably still without explicitly addressing any one of them) that got me thinking: How does it all connect ?
And foolishly enough, I demanded answers. Because I knew it wouldn't get any easier to follow along without an outline of, let's call it, a map of "extradimensional" spaces in the big game to build up on. So what did I do like whenever I feel lost ? I grabbed a pen and a piece of paper.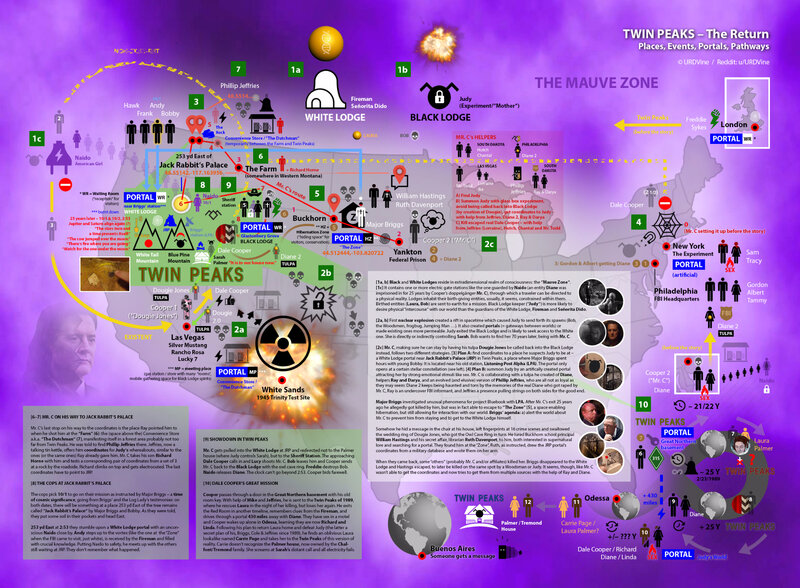 Click on the map to get a wider version of the map and be able to zoom on it
THE MAGICIAN LONGS TO SEE
I have always been a very visual person and, even though I don't do it for a living, I like anything which helps making a complex thing universally understandable by clear-cut iconography, mapping out and symbols easy to grasp at first sight. And I like to use shapes, (out)lines and colors that are still fun to look at. However, at the very first instant there was no thought of ever making anything of this public. I only wanted to help myself understand. And the desire became more urgent as parts 9 and 10 went on to add more vital info with Briggs' note and Hastings' account of their encounter with the Major in yet another dimension.
THE EVOLUTION OF THE GRAPHIC
The result of my first attempt to visualize the possible new concept of the Black and White Lodges, spaces like the purple world (or, as discussed by borrowing Kenneth Grant's term, the "Mauve Zone"), Naido's space container, non-exist-ent, the "Zone" and other interdimensional portals looked like this :
I know it's neat. In fact, it's nothing but a scribble in my notebook. But my written take on the nature of the different realms took up enough space for me to decide to post it to my favorite subreddit r/twinpeaks (which I can't praise enough for having fed me with tons of the hive mind's additional ideas and inspiration on a daily basis). Here it is.
You will notice that, of course, my reading of all these places and connections evolved as the story went along. What seemed most intriguing to me at this point was Major Briggs' quest for the White Lodge and his hibernation in the Zone, respective of what was bound to happen at the ominous Jack Rabbit's Palace.

This is where things started to get kind of messy. And I'm not only talking about my next scribble. Trying to incorporate what we already saw in part 3, I made a new sketch (I think it was done during a train ride and surely looks like it) opposing the Lodges, but placing them in the "all that is" (or can be) world of the Mauve Zone, filled with little electrical gateway-containers like Naido's. The center circle, representing Twin Peaks and the world around it as our dimension, is filled with portal "holes" created by the bomb like Swiss cheese, one of them being the artificially created glass box in New York.
The next version was a further variation of layout, using more than 3 colors for the first time and trying to highlight key characters of the grand plan and their agendas/paths in a very simplistic manner. And, let me say it here regarding this and everything which followed: From the very start, all this has only ever been based on my personal best guesses, trying to use as straightforward as possible logic combined with what seemed to be the broadest consensus of theories in the fandom that somehow made the most sense to me and, in many cases, aligned with my own intuitions. So I will never claim my version of agendas, places and events is anything like "the truth", but I will say I did invest a lot of thinking back and forth, and the visualization, as intended, did help me deepen my own understanding as I went along with the task. Where things are vague, I often tried to leave it ambiguous in the graphic. (Note: In the following version, I was still assuming that the "station" Bobby talks about being near Jack Rabbit's Palace could also be the U.S. Air Force base in Spokane, though I always leaned more towards the Listening Post just for its relevance, even if it doesn't line up well with biographical intel on Bobby's age when they moved to Twin Peaks and his father began working at LPA all the time).
At this point I was starting to realize it wasn't going to get less complicated and what I really wanted was to turn all this visual information into a "living map" which would be able to keep evolving, not so unlike the one Hawk presents to Truman. It always had to be up to date! And this meant there was no way around a digital version.
IT'S A LIVING MAP
The idea of a digital representation was not too far-fetched, since a fellow Redditor, a digital artist who PMed me after my first scribble, had suggested me to turn my paperwork into a digital version of his own. Since he never really followed up, I had to do it myself, for which I am now very grateful. So, not being a total noob with Photoshop myself, I purchased a new copy and started to get more and more intrigued with the idea of presenting the metaphysical spaces alongside all the physical ones in a … well, kind of four-dimensional map. This made me use the USA as the obvious main backdrop for all physical places and portals – being both physical and metaphysical –, since this was where the big story was set (besides Buenos Aires and later the only mentioned London, which came up/were added later). The metaphysical scope had to be rendered by making it protrude from a globe floating in (Mauve) space, much like seeing it from the Fireman's perspective. Hence, anything which would not be able to be pinned down to a physical location would be more or less freely placed (or sorted by laws of a somewhat simplified broader narrative concept) outside the geographical map, like the Lodges etc. Having a physical map of places and events then led to the necessity of "connecting the dots", which in turn led to giving the whos, whats and hows … and thus, I added key characters, their pathways and, as far as we could deduce them, their probable agendas in the plot. To make it look nicer, I would use little icons and symbols for clarity (and fun) wherever I could. Okay … hmm, wait. There is still this ugly empty space on the right … not much happening in the East. Great! I'll fill it with a text box explaining the greater narrative with some background on the assumed nature of the spaces, Briggs' journey, what is going on with the main McGuffin, the coordinates (the hype about them both on the Hastings website and on Ruth's arm was buzzing, so I integrated the numbers), plus some guidance on how to read all of this. I added quotes and references like from the Log Lady's lines on the left next to the Twin Peaks section to support my rendering of the basics from Briggs' note and Hawk's map. Nice. And half as messy :
By the way … There is a black dot on the top right next to the Twin Peaks logo. Before anyone thinks this is Audrey's mole as she looks into the mirror, proving the whole plot is actually her dream … stop it! It's just a layer with a black location spot I forgot to delete. Sorry.
Note also that I was still unsure about the portal the cops would probably find at Jack Rabbit's Palace. Assuming it had to be linked to the fire on Hawk's map, which was either good or bad depending on your intention, I found it possible the portal could lead to either the Black or the White Lodge, hence the ambiguous symbol with the evil avatar to be revealed as Judy in between. But what would have made it different to Glastonbury Grove then? You'll see that in later versions, I readjusted the waiting room as more likely a Black Lodge-affiliated portal, which would be a real contrast to the presumed White Lodge one we're going to find at JRP. I'm still not sure they "are" per se spaces of the Black and White Lodge, but maybe the nature of each spot makes it more attuned to the one or the other, so that each of the opposing forces can mainly use "their" spot for their purposes: serving as an antechamber for any kind of exchange with earthly beings.
The next version is quite a step ahead. It was given to me by God. I mean, the Fireman. No, I'm kidding. But the chance to start working on it one week early was given to me by whoever was responsible for the accident at Sky Atlantic Germany because it's a post-part 14 one. Yay! So this meant I was already able to integrate the essential visit at JRP into it, the events on the "Farm" (from 13, which was upped later the same day as 14 was taken down) and then I waited one more week to add the events from the "Dutchman" in 15. It made sense to create a path for Mr. C as well at this point. And an additional text box was required for the approach to the Town of twin Peaks and Jack Rabbit's Palace.
Yet another update, with a few more corrections and additions, some of them motivated by suggestions I got on Reddit, added the approaching FBI gang (which required making Diane stand out as a bit of an extra), the London portal, the Buenos Aires gadget plus another text box focusing on the converging plot elements as we got closer and closer to Twin Peaks. I published it in preparation for the expected showdown in the town :
Now, all I expected was a few more fillers to wrap up the plot elements set up this far in an epic showdown. So, as predicted, Cooper woke up, made his way to town as well as Mr. C, and the cops didn't return to JRP, but instead Bob and Mr. C were defeated at the Sheriff station. Perfect. There's going to be another green text box next to the existing one on the bottom left as planned.
As it turned out, I was happy to have some extra space on the bottom right too.
Part of the trauma after experiencing the unexpected extra finale of 18 was the agony of not knowing how on earth to wrap this extravaganza of an epilogue/non-sequitur setup into a neat portion of an infographic. Maybe a giant WTF sign? And I'm only half-joking. At least that last part was otherworldly enough to outsource it at least partially outside the geographical map, creating a transgression from the green Twin Peaks section to the nebula of multiple timelines and realities in the extradimensional area.
So … like all of us, I needed time to digest. The meager outcome of the following two weeks was another therapeutical sketch :
And then I had a few days off and I knew I had to start somewhere. So at least one additional timeline/alternate reality was created along the path of the eternal loop of time Cooper enters in the Great Northern basement. This first crossing sends him on a mission he chose for himself, but it's like an eternal trial and error he can't escape easily until he learns something very important about himself (that is my reading of the core lesson to be learned). In the graphic, I decided to render each version of altered – or alternate – reality as a world of its own, coming up with a number of 3 different versions of Twin Peaks represented by changes of the iconic colors of the logo: 1) the one from 1989, but altered by Laura being ripped out of her destiny as we know it, 2) the one in which Dale exits the Black Lodge 25 years later as if none of season 3 ever happened, being welcome by some version of Diane, and 3) the one located in Judy's world Dale/Richard takes Laura/Carrie to, with a changed Double R and the Tremonds living in the Palmer house. I am in no position to know whether these really are three different worlds, but it seemed an appropriate way still unspecific enough to render this in a graphic of this kind.
So in 1) Dale rescues Laura, although she eludes him before he can bring her "home" to the White Lodge (which maybe is at the same time the Palmer house infiltrated by Judy possessing Sarah's soul?). In probably yet another timeline without the doppelgänger shenanigans, Cooper exits the Black Lodge after 25 years, is received by Diane and they head for Laura and Judy in the alternate dimension of Odessa. They apparently leave their old identities behind, and Dale/Richard also finds a different identity of Laura's. The final scene in that version of Twin Peaks prompted me to include an icon for the Palmer house both in the "old" and new version (the unofficial and official one?) of the town, implying Sarah's/the place's possession. Plus, as Diane's character gained more relevance towards the end, I included a detailed rendering of her backstory as well. Add corrections in the text boxes where appropriate in hindsight, give it a subtle illustration of the doppelgängers' faces taken from the DVD cover, brew some coffee and let it save this 200ish-layer Photoshop file … :-) ALL.
MAKE SENSE OF IT
So, after all is said and done … is there a "best" way to read this ? Without over-explaining the visual clues I gave, let me offer some insight :
I guess it is needless to say that this graphic is intended as a tool for giving some kind of structure to the more plot-driven parts of TPTR, offering additional background where appropriate. As such, it is easier to read if you're already anchored in the story to some degree in order to get a better picture (literally) of what happened in retrospect. Something to always get back to whenever you lose orientation.
As with any visual representation or guide, some amount of simplification is required, which is both an aim and a limitation in itself. So anything like certain aspects about the true nature of the Lodges and portals, as well as the beings attached to them, may still be up for speculation. Also, some of the both more tangential and more straightforward storylines (like most of what's happening in Las Vegas or with the classic Twin Peaks characters in the town), was omitted because it's either not part of any kind of travel, too obvious, too complex, not enough rooted in the big story, better explained in a text box, or a combination of these factors. Knowing this graphic is made to add structure and not cause further confusion, and given the confines of mere space, it is mainly about everything linked to the quest of the two Coopers. Other vignettes like Audrey's fate, what exactly went on with Dougie 1, DougieCoop and Dougie 2 etc. are better left to discussion in written form.
As to where to start and where to end, I can only say: follow the numbers. We start at the mythology of the big spaces as a timeless backdrop (1a–c), look at the fatal event in time which messed everything up (2a, b), and from there we move on to the setup of the current story reaching back into the legacy of Major Briggs, his subsequent fate after season 2 and how it connects with the two Coopers, Bill Hastings and Ruth Davenport (2c–5).
This is where we get to a more linear reading following the narration of the final act about the two Coopers' way to Twin Peaks, with everything and everyone following, up to the showdown and endings of parts 17 & 18 (6–10). This is accompanied by the green boxes corresponding to the green backdrop of the magnified Twin Peaks section on the map. (10, Dale Cooper's mission, of course, to be seen mainly outside of these strict confines, but still always leading back to Twin Peaks in all its realities.)
You may have noticed that my use of colors and symbols is not coincidental. Most obviously, the white and black for the Lodges and gold for orbs or seeds, containing something like life to spring from them. Red is Mr. C's color and in general the tint of aggression, while everything green is linked to Twin Peaks and blue signals anything pointing to a Blue Rose connection. Brown is the FBI, as I somehow linked this color to them going from the atmosphere/set design of the hotel rooms we saw them sitting in most of the time. Recurring shapes are no coincidence either. A good example is the one of the bell as seen on screen: The Fireman's palace (including the alarm bell machine thing), Jack Rabbit's Palace, tin kettle Jeffries and the symbol for Naido's container, a vertical plug representing both electricity, two exits as well as some kind of connection to the Fireman's realm, existing (as far as we can safely say that) in the same world. I think that this shape always represents some kind of good intention, so Jeffries at the Dutchman's could just as much be an infiltration of this evil space by good as Judy's possible influence reaching into the White Lodge is in turn. Both are in each other's houses now.
Anything else I'd love everyone to figure out for themselves, since, as we know: Explanation is the root of all evil. It is supposed to be studied and pondered upon, much like the show itself.
AROUND THE DINNER TABLE…
… the conversation has been more lively than I could have imagined. So now that this thing is, to quote Mr. Lynch, "out in the world", I've been overwhelmed with the response. Thinking the creators would perhaps like my take on their oeuvre as well, I was bold enough to share it with them in a Tweet. And let me just say: Mark gave two thumbs. And then it kind of became viral within hours. A big, warm THANK YOU to everyone who shared, liked and reacted to it in some way. You've made my heart so full.
And it didn't stop there. So now, we have an English and a German version (the latter a result of my home country and my own small FaceBook community "The German Cave"), plus a Russian one which popped up some day on vk.com, translated by an avid and diligent fan. I'm truly impressed. And, last, but definitely not least, one day Roland approached me and asked for an article he could share on Lynchland. Merci !
So where do we go from here ? T-shirts ? Posters ? A holographic version ? I don't know. But watch this space. I promise: If season 4 ever manifests in our reality, it will create an orb which will possess me again and prompt me to make another one. Meanwhile …
Lots of love.
Omar I. Obazda
05 février 2017
Are you a musician ? A composer ? A member of a band ? A singer ? This call could interest you !
If you think that one of your existent songs or tunes has some Twin Peaks vibes, that it sounds and feels like it belongs in David Lynch's series, if you have covered yourself one of the Angelo Badalament's tracks used in the show, please submit your musical work to our Lynchland Team on www.facebook.com/lynchland, and we'll make sure to listen to your music carefully to see if it can fit in one of our two upcoming Lynchland Members Twin Peaks Mixtapes.
Our Lynchland Members Mix #1, created in 2016, has been listened more than 1.000 times so far ! It was one of our most rewarding experience ever here. Listen to it if you didn't catch it the first time (click on the cover picture below)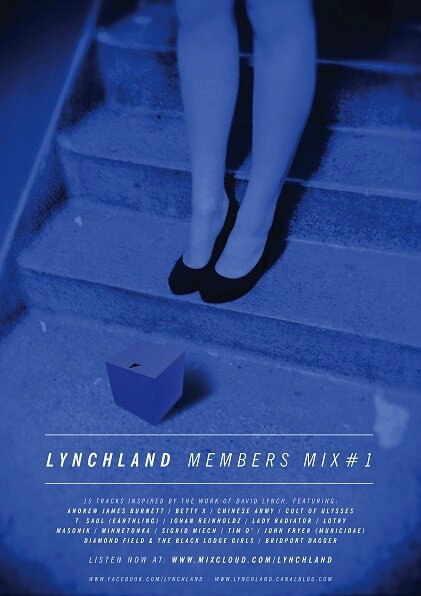 We have launched our Lynchian Mixtapes two years ago, in March 2015. So far, our 33 mixtapes are quite successful, as they have been played around 21000 times for more than 357.000 minutes listened (around 250 days !). We have recently hit the 1400 followers mark and our mixtapes have been favorited 1390 times - yes, the Lynchland Team likes the stats, 'cause, hey, there are not a lot of other possibilities to know if our work is liked or not!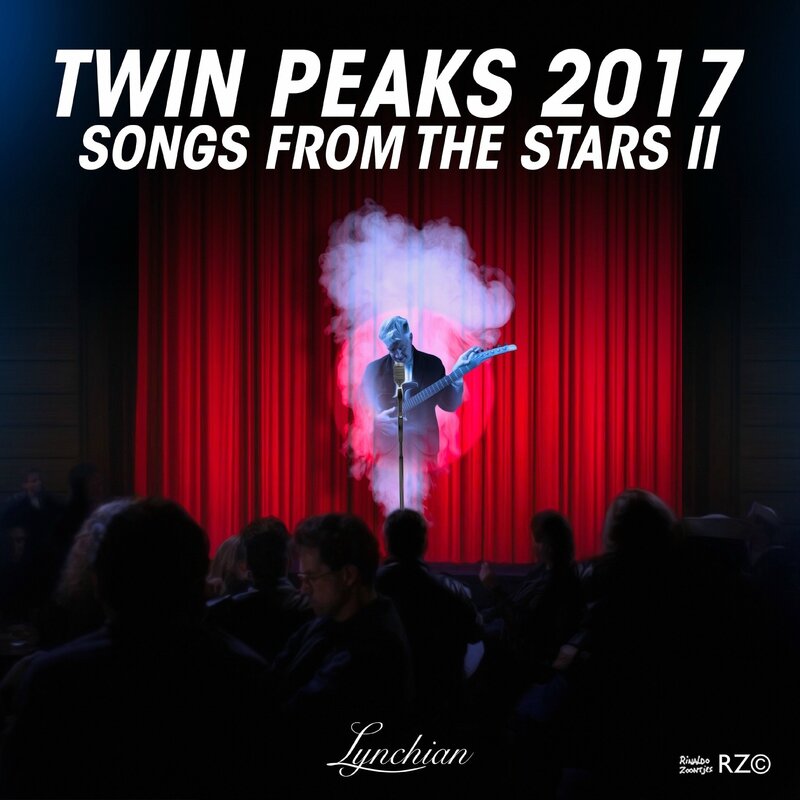 (Song to the Stars II Twin Peaks 2017, Artwork © Rinaldo Zoontjes for Lynchland)
Quite a few bands and singers mentioned in our Mixtapes have appreciated our work, have commented it or shared it on their own pages and we hope of course that it will keep on being spread. If you have liked our previous mixtapes as well, don't hesitate to send us your music.
12 novembre 2016
The Lynchland Guests Mixtapes are based on the songs chosen by an eminent member of the lynchian community.
GUEST MIX #4 ~ REBEKAH DEL RIO
For our new guest mix, we are joined by none other than La Llorona de Los Angeles, the great Rebekah Del Rio ! Her appearance in Mulholland Drive, during which she sang the Roy Orbison cover "Llorando" in the Silencio club scene, was arguably one of the most memorable moments of the movie. Needless to say, we can't wait to see her in the new Twin Peaks season. Click on the picture (© Andrew Humphries) to listen to this guest mix !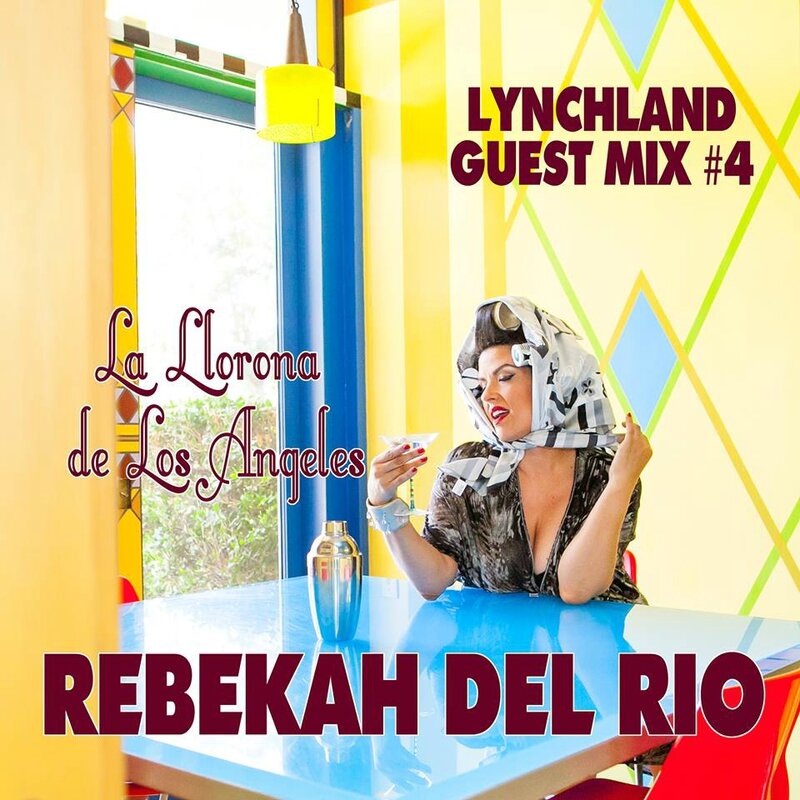 As usual in our show, we asked Rebekah to pick fifteen of her favorite songs. Her choices are deeply personal and evocative, and Rebekah was gracious enough to write a few lines about each one of these tracks. The release date of November 11th relates to a very meaningful time in her life, and we hope that listening to her favorite music will foster a sense of communion and togetherness on this special day. You can read her words in full below.
1. "Llorando" by Rebekah Del Rio. This is my number one favorite song. I loved it in its original form written and sung by Roy Orbison but like Barbara Orbison told me once, my version felt like it was written in Spanish first 'then' translated into English. This hauntingly beautiful song is the single most number one reason why my career exists ! I started singing "Crying" a capella in 1993 and decided it would be really original to do it in Spanish. I met a woman who is a great songwriter for Spanish songs and asked her to translate it for me. I then finessed it into the song it became. I started singing this version around Los Angeles and I got a major management deal and then a record deal in Nashville. While I was finishing up my Country record, my CAA agent, Brian Loucks introduced me to David Lynch. I sang my "Llorando" and he recorded it unbeknownst to me and thus birthed club Silencio in Mulholland Drive and every other amazing opportunity that has come my way. Including Carnegie Hall with Sting, Sir Elton John, Nina Simone, a gold record with Il Divo, performance with the Royal Philharmonic, standing ovation after standing ovation... You see why this is my favorite song? It is the song that represents me the most… my pain... my triumphs… my life.
2. "What Are You Doing the Rest of Your Life" by Dusty Springfield. Such a beautiful composition, words and melody, so complicated yet so simple… like love, no ?
3. "Je suis malade" by Lara Fabian. I heard this song for 4 months straight during a show I did in San Francisco in 2011. The words are as powerful as Llorando and just as tragic... do you wonder why I love this song ?
4. "Corcovado (Quiet Nights of Quiet Stars)" by Astrud Gilberto. All of Jobim's songs are amazing. I could listen to Astrud forever... such a sweet voice... and lonely...
5. "Wichita Lineman" by Glen Campbell. Classic Country 70's song that tears my heart out... it's just beautiful! Reminds me of my childhood growing up with a Texan mother always listening to classic country. This is my soul.
6. "Love on the Brain" by Rihanna. This song really reminds me of a David Lynch song... I can relate to this song very much.
7. "Ventura Highway" by America. This is my happy place song. It reminds me of my late son Phillip. We used to put our harms out of the car and make waves in the wind with our hands... pure joy.
8. "Hallelujah" by Jeff Buckley. This song was played at my son's funeral and when I laid his ashes down in Victoria at mile Zero...
9. "Coat of Many Colors" by Dolly Parton. This song reminds me of my childhood. I was very poor and could relate to this song at the time... Flash forward 34 years later: refugees made me a coat of many colors in Australia for my performances there. Each lament I sang, they added a layer until I had a long hooded cape. Sooo beautiful… my coat of many colors...
10. "Ooh Baby Baby" by Linda Ronstadt. Linda Ronstadt was my vocal teacher... via vinyl records. When I was growing up, we didn't have money for extravagances like albums but my older brother bought me a used Linda Ronstadt album and I practiced every day to sound like my idol. Years later, I perform at Carnegie Hall with the original writer/performer of this amazing song, Mr. Smokey Robinson.
11. "Natural High" by Bloodstone. I love this era of music ! Cool and Sexy ! Jackie Brown baby !!!
12. "You Have Been Loved" by Sia. This song is so true... I have been loved and have loved — to my hearts annihilation.
13. "Gloomy Sunday" by Billy Holiday. Although I prefer the original singer from the motion picture, this Hungarian suicide song is nothing short of tragic... sorrow at its deepest level.
14. "Goodbye to Love" by Karen Carpenter. Growing up I idolized Karen Carpenter and of all of her many happy songs I love, this song is the one that strikes my heartstrings the most. "I'll say goodbye to love… no one ever cared if I should live or die..." I know how she feels.
15. "Thankful" by Rumer. This new artist from the UK is Dusty and Karen wrapped up in one. This song reminds me of my beloved son, Phillip C. DeMars, who said to me "always say thank you and I love you... especially to yourself... the G-d within".
---
GUEST MIX #3 ~ XIU XIU
For the third installment of our Guest Mix series, we are very honored and greatful to host Xiu Xiu's choice of songs. As you probably know, Xiu Xiu has recently released their own, masterful and haunting version of the Twin Peaks soundtrack ; in more recent news, Xiu Xiu's founding member Jamie Stewart is collaborating with Lawrence English to soundtrack David Lynch's Factory Photographs, a project called HEXA. Click on the picture to listen to this guest mix !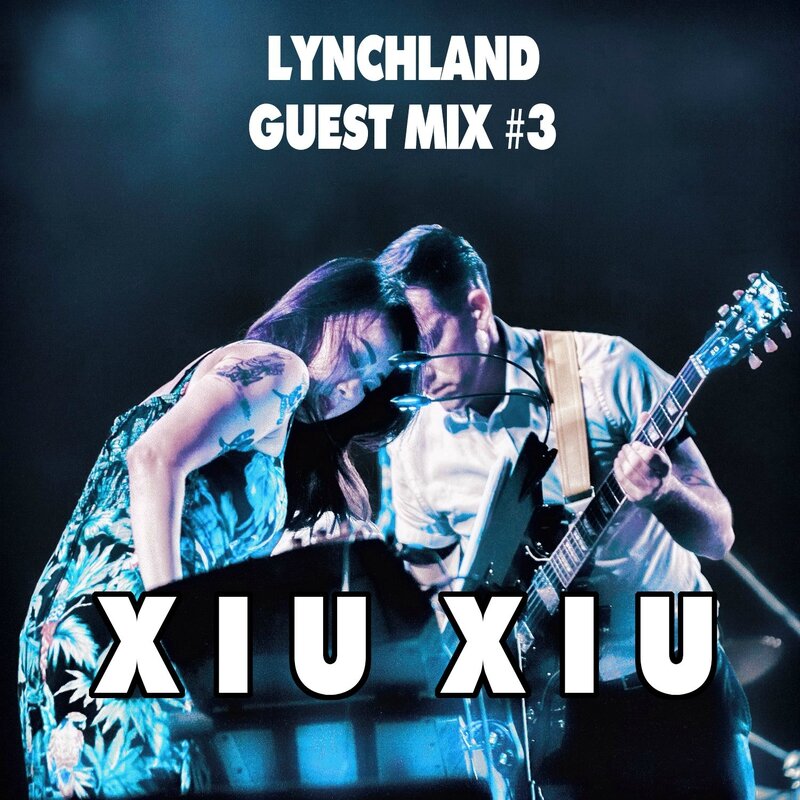 About this mix, Jamie told us that "these are all songs that in our imaginations could be a part of future, deep past, black lodge ritual or hyper alternate Twin Peaks universe. It is one that is constantly expanding within our own little universes." His selection is an uncompromising mix of grit and grace, as many-faceted as Xiu Xiu's music, that we also encourage you to check out if you haven't.
---
Our second Guest Mix, after John Neff, comes from Silencio, a fantastic band from Pittsburgh, PA. Together, the nine-piece ensemble plays a unique, noirish combination of jazz and rock. Click on the picture to listen to this mix !
Photo by Ryan Michael White, edited by Jeremy C.
"The selection of music we've provided comes from 3 Silencio members: Kirk, Dessa and David. This is just a speck of sound in what we consider inspiration to the music we create alongside our renditions of David Lynch's soundtrack works." - Kirk Salopek
We strongly urge everyone to check out Silencio's music, especially their albums "Music..." and "More Music Inspired By the Works of David Lynch & Angelo Badalamenti" :
Thanks to Silencio - A Tribute to the Works of David Lynch & Angelo Badalamenti for sharing with us some of their very favorite tracks, which include Nick Cave, Ry Cooder, Depeche Mode, Portishead, Lee Hazlewood & Nancy Sinatra, Miss Peggy Lee, Roy Orbison, Sam Taylor, Arvo Part, The Gun Club, Kraftwerk and many other great artists.
---
For our first guest mix, we had invited our friend John Neff, one of David Lynch closest musical collaborators, to be the godfather of this new series and to share with us some of his favorite songs, from psychedelic pop to prog rock and smooth soul. Click on the following picture to listen to this mix.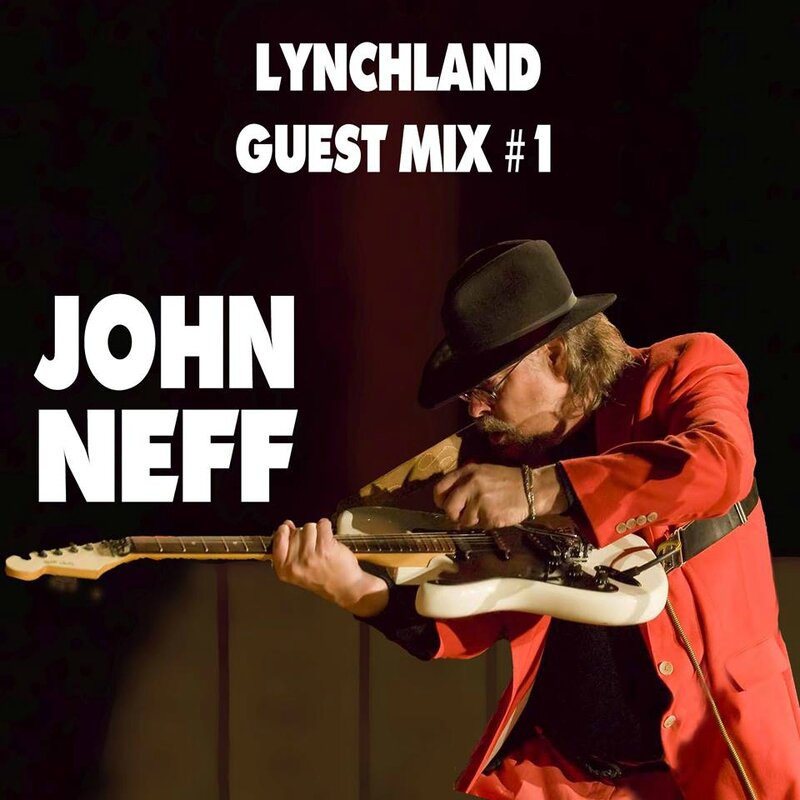 Photo by Bob Hakins, edited by Jeremy C.
20 octobre 2016
Lynchland et les Editions Michel Lafon ont mis en place un partenariat, à l'occasion de la sortie en France de L'Histoire Secrète de Twin Peaks de Mark Frost le 27 octobre, pour vous permettre de remporter un exemplaire de ce précieux ouvrage qui marque le lancement de la troisième saison de Twin Peaks.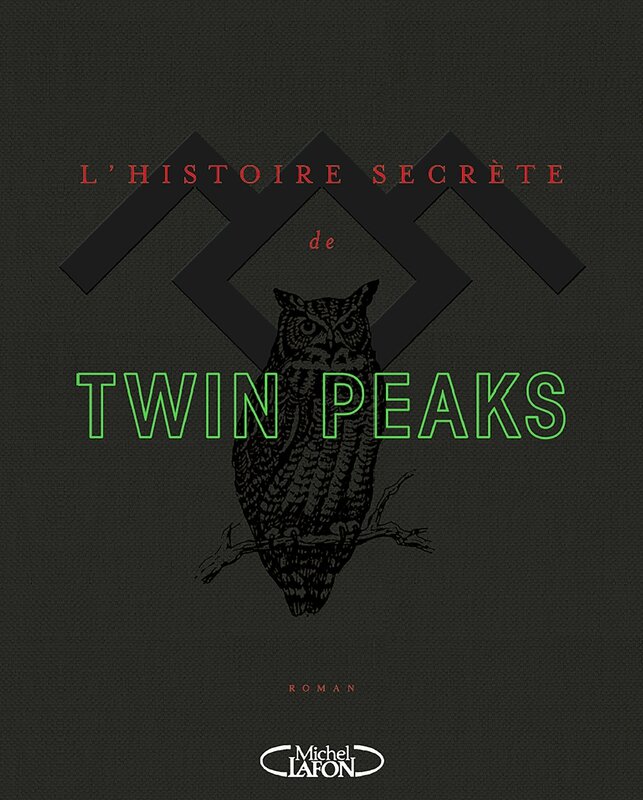 Afin de remporter peut-être un des trois exemplaires mis à notre disposition par les Editions Michel Lafon, il vous suffit de répondre aux trois questions suivantes :
1) Quel est le nom du personnage interprété par Mark Frost dans les premières saisons de la série "Twin Peaks" ?
2) De qui s'est inspiré en grande partie Mark Frost pour créer le personnage de Dale Cooper ?
3) Quel est le premier projet auquel David Lynch et Mark Frost ont collaboré ?
Merci d'envoyer vos réponses sur la messagerie FaceBook de Lynchland. Afin de contribuer à la progression de la page, nous apprécierions que vous partagiez sur votre page un lien direct vers Lynchland (www.facebook.com/lynchland) et que vous invitiez vos contacts susceptibles d'être intéressés par notre travail. Merci encore et bonne chance !
Tous nos remerciements à "Marion & Marion", des Editions Michel Lafon, qui ont rendu ce partenariat possible.
28 août 2016
Depuis le 1er novembre 2014, notre équipe Lynchland organise des événements cinématographiques liés au monde artistique de David Lynch. Vous trouverez ci-dessous le détail des journées Lynchland que nous avons mises en place au cinéma Les Montreurs d'Images à Agen. Notre Lynchland Team est désormais totalement ouverte à la possibilité d'organiser ce type d'événements dans le Sud-Ouest ou ailleurs, en rééditant un des opus précédemment organisés ou en oeuvrant à la création "clé en main" d'un événement inédit, afin d'exporter nos connaissances et notre passion. Que vous soyez exploitant de salles ou simple spectateur désireux d'alerter une salle art-et-essai sur cette possibilité, n'hésitez pas à prendre contact avec nous sur notre page FaceBook Lynchland. Nous travaillons en liaison directe avec les assistants de David Lynch et sommes donc en mesure de créer des programmes ambitieux et originaux par leur contenu.
---
LYNCHLAND #5 ~ DAVID LYNCH & INTERNET
(20 février 2016)
Cliquez sur l'affiche ci-dessous pour accéder à l'ensemble du programme de cette édition.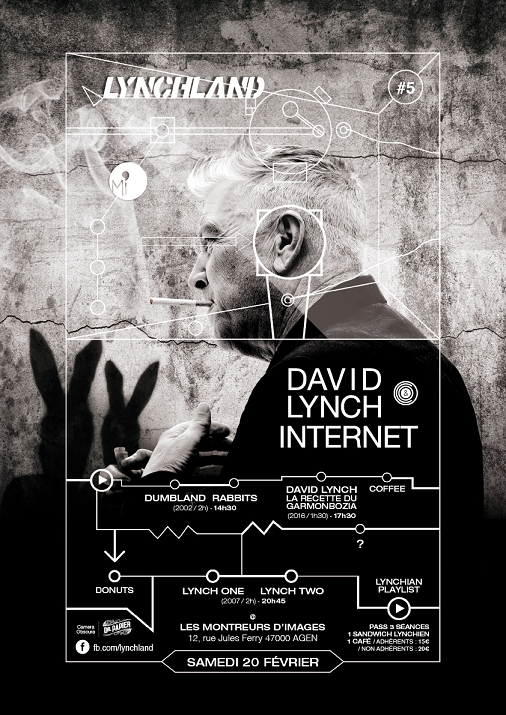 Affiche créée par Dr. Papier
---
LYNCHLAND #4 ~ DAVID LYNCH & ANGELO BADALAMENTI
(7 novembre 2015)
Affiche créée par Dr. Papier
Le son et la musique occupent une place primordiale dans le cinéma de David Lynch depuis ses premiers courts-métrages. C'est durant le tournage de "Blue Velvet" en 1987, alors qu'il recherchait simplement un coach pour aider Isabella Rossellini à interpréter la chanson-titre, que le réalisateur américain a rencontré celui qui allait devenir son alter ego musical, le compositeur Angelo Badalamenti, qui n'a cessé depuis d'accompagner musicalement son oeuvre. A l'instar des "couples" mythiques formés par Alfred Hitchcock et Bernard Herrmann, Sergio Leone et Ennio Morricone ou encore Steven Spielberg et John Williams, David Lynch et Angelo Badalamenti sont aujourd'hui indissociables. Lynchland #4 a pour ambition de mettre en avant quelques-uns des moments phares de leur collaboration fructueuse.
17h30 : Industrial Symphony No.1 (1989 / 50')
"Industrial Symphony No.1 - The Dream of the Broken Hearted" est la captation d'un spectacle musical mis en scène par David Lynch et "mis en musique" par Angelo Badalamenti à la Brooklyn Academy of Music de New-York le 10 novembre 1989, quelques mois seulement avant la première diffusion américaine de "Twin Peaks" et la Palme d'Or remportée à Cannes pour "Sailor et Lula". Ce n'est donc pas un hasard si l'atmosphère de "Twin Peaks" se diffuse largement dans ce spectacle où l'on retrouve des chansons que la série allait rendre célèbres, spectacle précédé d'un prologue cinématographique qui lui donne son titre et où réapparaissent les protagonistes de "Sailor et Lula". Une oeuvre musicale hybride teintée d'onirisme et d'un romantisme sombre, une "symphonie industrielle" contant le rêve d'une femme au coeur brisé.
Spectacle complété par des clips et autres "vignettes musicales" illustrant la collaboration Lynch / Badalamenti.
21h : Récital Twin Peaks par Nicolas Horvath (durée indicative : 1h30)
Spécialiste de Philip Glass, Franz Liszt et Erik Satie, le pianiste Nicolas Horvath éprouve également une affection particulière pour les compositions d'Angelo Badalamenti. Il interprète quelques-uns de ses morceaux fétiches, notamment la plupart des thèmes de "Twin Peaks".
---
LYNCHLAND #3 ~ HARRY DEAN STANTON FESTIVAL + EXPOSITION BOUNDLESS SEA
(27 juin 2015)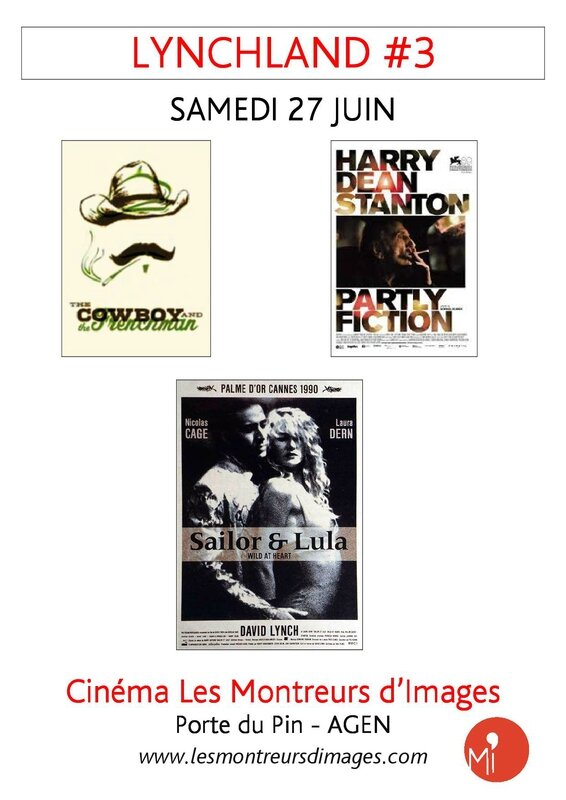 Harry Dean Stanton, 90 ans depuis le 14 juillet 2016, est l'un des acteurs américains les plus prolifiques, dans la grande tradition US des seconds rôles qui habitent nos écrans depuis tant d'années. Il a joué dans plus de 200 films, parmi lesquels "La conquête de l'Ouest" de John Ford, Henry Hathaway et George Marshall, "Pat Garrett et Billy le Kid" de Sam Peckinpah, "Le Parrain II" de Francis Ford Coppola, "Alien" de Ridley Scott, "New York 1997" de John Carpenter, "La dernière tentation du Christ" de Martin Scorsese, ou encore "Paris, Texas" de Wim Wenders, qui constitue sans doute à ce jour son rôle le plus célèbre.
Harry Dean Stanton est également un des compagnons de route fidèle de David Lynch, un de ces acteurs que le réalisateur américain aime à retrouver régulièrement. Leurs chemins se sont jusqu'à présent croisés à six reprises (et plus : ils ont tourné ensemble en tant que comédiens dans le film "Lucky" durant l'été 2016 et Harry Dean fait également partie de la distribution de la nouvelle saison de "Twin Peaks"). Ce sont quelques-unes de ces rencontres que retrace "Lynchland #3", "mini Festival" qui fait pendant au Festival HDS officiel qui se tient à Lexington, ville natale de l'acteur, à la mi-mai.

Le programme complet de cette journée spéciale Harry Dean Stanton :
15h : Le Cowboy et le Frenchman & Hotel Room - Tricks, en partenariat avec la David Lynch Fondation France, dans des versions sous-titrées réalisées par nos soins. Autrement dit, en exclusivité ! "Le Cowboy et le Frenchman" (1988 / 26') marque la première collaboration de David Lynch avec Harry Dean Stanton. Ce dernier y interprète Slim, caricature de cowboy qui capture une parodie de Français (béret, escargots et baguette à l'appui !), et tous deux vont tenter de nouer le dialogue, malgré tous les clichés qui les séparent. "Hotel Room - Tricks" (1993 / 31'), issu d'une mini-série composée de trois épisodes, Harry Dean Stanton incarne John Moe, petit truand embringué dans une variante de film noir qui finira par le dépasser totalement.
17h30 : Harry Dean Stanton : Partly Fiction, documentaire de Sophie Huber présenté pour la première fois en France, "clé de voûte" de Lynchland #3. Ce documentaire est intégralement consacré à la carrière de comédien d'Harry Dean Stanton, mais revient aussi sur ses talents de chanteur et dresse le portrait attachant d'un iconoclaste à travers les regards croisés de Wim Wenders, Sam Shepard ou encore, bien sûr, David Lynch lui-même.
20h30 : Sailor et Lula / Wild at Heart, à l'occasion du 25e anniversaire de la Palme d'Or remise à Cannes par Bernardo Bertolucci à David Lynch en mai 1990. Harry Dean Stanton y tient le rôle secondaire mais marquant de Johnnie Farragut, détective privé bonne pâte à la solde et la botte de Marietta Pace, la Cruella mère de Lula qui l'a engagé, au milieu d'une foule d'autres malfrats et dégénérés, pour mettre un terme à l'histoire d'amour que sa fille vit avec Sailor Ripley. Mettre l'interprétation d'Harry Dean Stanton en évidence permet d'éclairer sous un nouveau jour un des aspects du film. Cette projection ultime fut complétée par une sélection de scènes coupées du film dans lesquelles apparaît Harry Dean.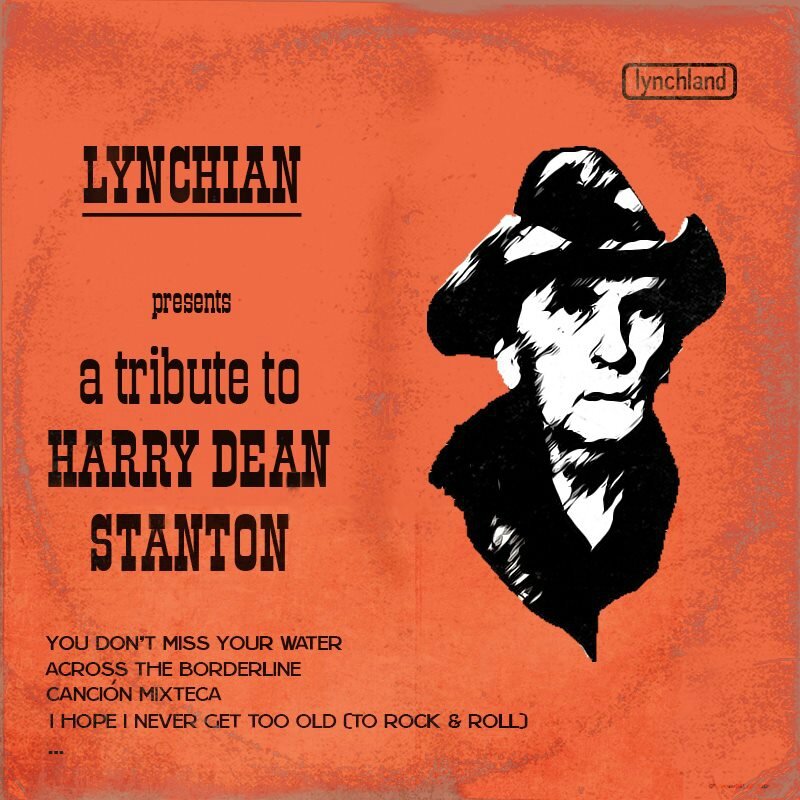 Durant toute la journée, outre nos traditionnels donuts, la dégustation de notre café estampillé David Lynch, ou des sandwiches spéciaux, les spectateurs ont également pu écouter une playlist élaborée par nos soins pour rendre hommage à Harry Dean, à laquelle vous pouvez accéder en cliquant sur le visuel ci-dessus.
Notons enfin, et c'est l'un des "titres de gloire" de Lynchland, que Harry Dean Stanton a enregistré une petite vidéo de bienvenue à destination de nos spectateurs, qui peut être visionnée ici :
Parallèlement à la journée LYNCHLAND #3 - HARRY DEAN STANTON FESTIVAL, se tenait au cinéma Montreurs d'Images l'exposition de "The Boundless Sea", une série de 12 assiettes réalisées par David Lynch à la demande du faïencier Bernardaud, à l'occasion de la célébration des 150 ans de la célèbre entreprise de porcelaine de Limoges. Cette exposition, exclusive sur Agen, était accompagnée par la diffusion d'un reportage de 3' consacré à cette aventure artistique atypique du réalisateur américain.
---
LYNCHLAND #2 ~ LYNCHLAND EMPIRE
(21 mars 2015)
Affichée créée par Docteur Papier
Lynchland #2 est la "version intégrale" de Lynchland Empire, l'intervention de Roland K. / Lynchland à Bordeaux le 6 décembre 2014 durant le Colloque consacré à David Lynch, d'une durée approximative de 3h.
David Lynch n'est pas simplement l'un des plus importants cinéastes actuels, c'est aussi un artiste éclectique et polyvalent : peinture, lithographie, design, vidéo clip, musique, photographie, etc., il s'adonne régulièrement à la pratique de tous ces champs artistiques. "Lynchland Empire" met en lumière, en photos, en vidéos, en sons, cet "autre Lynch" méconnu du grand public, à travers une "conférence" agrémentée de projections, d'extraits et autres petites pépites lynchiennes récoltées depuis 2013 : tableaux, clips et quantité de photos.
---
LYNCHLAND #1 ~ BLUE VELVET
(1er novembre 2014)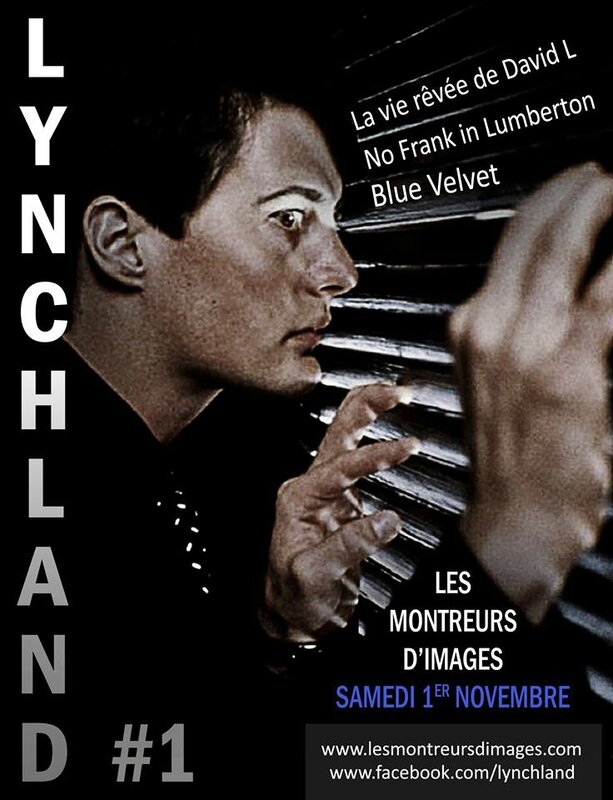 La première édition des événements Lynchland s'est axée autour de la projection de deux longs-métrages :
15h : La vie rêvée de David L., faux biopic qui s'inspire d'un moment clé de la vie du réalisateur David Lynch : la période où il était étudiant en école d'art. Ses réalisateurs, Paul Lê et Julien Pichard, ainsi que Sylvain Urban, interprète du rôle-titre, étaient présents lors de la projection et ont pu discuter avec le public à l'issue de la séance.
17h30 : No Frank in Lumberton, documentaire expérimental de 60' réalisé par Peter Braatz lorsqu'il se trouvait sur le tournage de "Blue Velvet". Il s'agit d'un documentaire rare, voire inédit dans les salles françaises. Peter Braatz a depuis travaillé sur un second long métrage documentaire sur "Blue Velvet" : "Blue Velvet Revisited".
20h : Blue Velvet de David Lynch, ressorti en copie numérique flambant neuve, restaurée quelques semaines auparavant, projection agrémentée de quelques surprises lynchiennes.
Tout au long de la journée, comme ce fut ensuite le cas dans toutes les éditions suivantes, ont été proposés à la dégustation des donuts ainsi que le "Signature Cup Coffee" estampillé par David Lynch et offert à Lynchland par un sponsor américain, "Java Distribution".
Un article de presse relatant cet opus Lynchland #1 :
"Il est victime du virus David Lynch"
08 juillet 2016
Have you ever imagined how the new Twin Peaks soundtrack could sound ? Listen to Twin Peaks 2017 ~ Songs from the Stars II !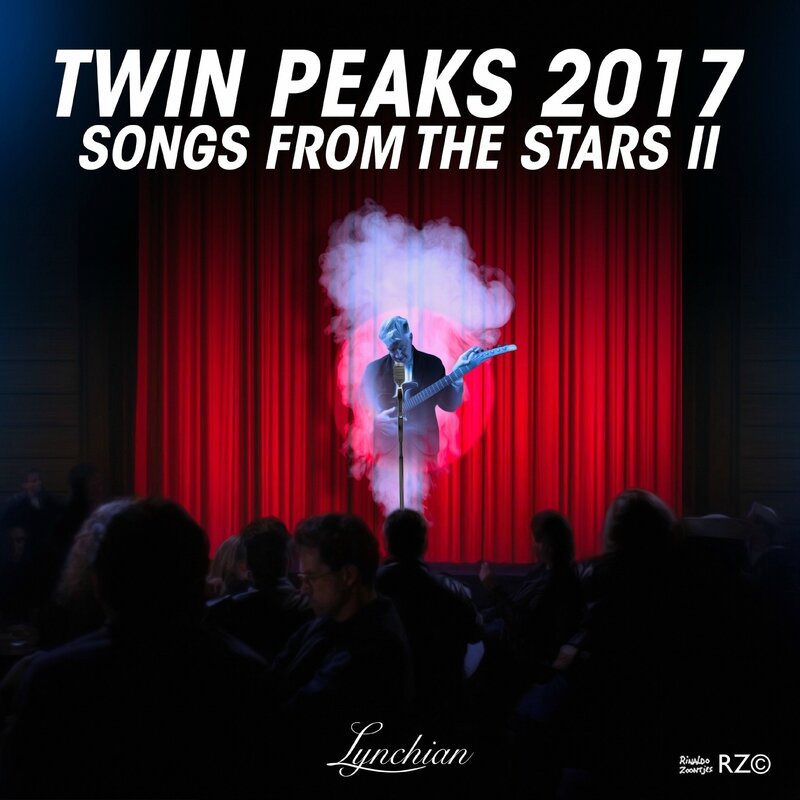 "DKL Jamming in the Roadhouse" © Rinaldo Zoontjes for Lynchland
This part two of our Songs from the Stars series features no less than 31 tracks from the cast of Twin Peaks, from the old and new seasons. For this mix, we round up the usual suspects (Julee Cruise, Chrysta Bell, David Duchovny, Harry Dean Stanton, Balthazar Getty, Trent Reznor, David Lynch himself...) and a talented group of newcomers in the Lynch universe (Amanda Seyfried, Jim Belushi, Sky Ferreira, Michael Cera, Richard Chamberlain, Eddie Vedder, Jennifer Jason Leigh, Tim Roth...). Every song is fantastic and will only make us more eager to see what David Lynch and his team will come up with.
TRACKLIST

01 Emily Stofle, Kristen Kerr & Stanley Kamel - Song from Room to Dream 00:00
02 CHROMATICS [Ruth Radelet] - Cherry 01:39
03 Lissie [Elisabeth Maurus] - Mountaintop Removal 06:06
04 Rebekah Del Rio - Dindi 11:19
05 Eddie Vedder - Longing to Belong 15:14
06 Michael Cera - ohNadine (you were in my dream) 17:49
07 Ming and Ping feat. Mariqueen Maandig Reznor - Chinatown 20:10
08 Tim Roth - If I Had You 24:02
09 Alicia Witt - Consolation Prize 26:37
10 Sara Paxton - Take a Walk 31:05
11 SOLARDRIVE & TC [Balthazar Getty] - Some Say 33:58
12 Richard Chamberlain - Three Stars Will Shine Tonight 39:31
13 8½ Souvenirs [Chrysta Bell] - L'amour toujours 42:05
14 Peggy Lipton - Let Me Pass Py 46:05
15 Ashley Judd and Tayler Hamilton - True Love 49:56
16 Hybrid feat. Julee Cruise Official - If I Survive 51:59
17 Robert Jones [Caleb Landry Jones] - Everything Is Fine 56:30
18 Amanda Seyfried - L'il Red Riding Hood 01:04:07
19 David Duchovny - Passenger 01:07:54
20 Jane Levy - Pleasant Nightmare 01:12:26
21 Sky Ferreira - Sad Dream 01:13:26
22 Hugh Dillon - Bottom of a Dream 01:16:59
23 Jennifer Jason Leigh - Midnight Train to Georgia 01:20:12
24 Jim Belushi - Smokin' Blues 01:23:13
25 Sharon Van Etten - I Don't Want to Let You Down 01:26:35
26 The Cactus Blossoms [Jack Torrey & Page Burkum] - You're Dreaming 01:30:33
27 Au Revoir Simone (band) [ Heather D'Angelo, Erika Forster & Annie Hart] - Shadows 01:33:54
28 The Veils [Finn Andrews] - One Night on Earth 01:37:45
29 Dave Grohl, Josh Homme, Trent Reznor - Mantra 01:41:46
30 Harry Dean Stanton- The official page. - Help Me Make It Through the Night 01:49:25
31 David Lynch - Are You Sure 01:51:06
---
SONGS FROM THE STARS I
The Songs from the Stars Part I is a selection of songs sung by some of the actors directed by David Lynch in his previous films. Of course, some of them, such as Ann Miller, Sting, Chris Isaak or David Bowie, are established professional musicians, while others aren't usually known for their singing talent. But they may surprise you !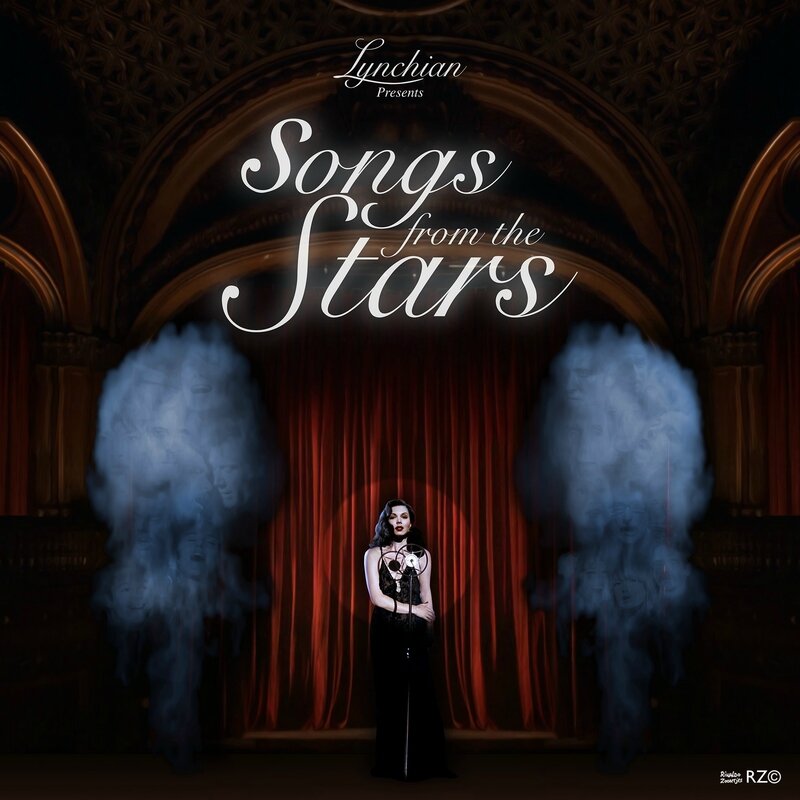 The terrific cover of this new mixtape has been created by the talented and prolific artist Rinaldo Zoontjes, who has joined our Lynchland Team ! His great artwork features a young "Coco Lenoix", i.e. Ann Miller, performing à la Dorothy Vallens in Blue Velvet, and most of the other "stars" involved in this mixtape are also featured. How many lynchian stars can you spot in these "pillars of smoke" ?
TRACKLIST

01 Ann Miller - Too Darn Hot 00:30
02 Russ Tamblyn - Tom Thumb's Tune 03:14
03 Richard Beymer - Maria 05:28
04 Peggy Lipton - Wasn't It You 08:02
05 Michael Parks - Wayfarin' Stranger 10:52
06 Chad Everett - Nights on Broadway 14:06
07 Nastassja Kinski - Little Boy Blue 16:51
08 Sissy Spacek - He Don't Know Me 18:32
09 Sting - Moon Over Bourbon Street 21:35
10 Anthony Hopkins - Distant Star 25:32
11 Nicolas Cage with Pride & Joy - He Don't Love You 29:26
12 Nancye Ferguson's The Visiting Kids - Trilobites 32:35
13 Dean Stockwell - Alphabet Song Rap 35:57
14 Chris Isaak - 5:15 37:58
15 Diane Ladd - Kiss of Fire 41:15
16 Harry Dean Stanton - Across the Borderline 44:08
17 tindersticks (official) & Isabella Rossellini - A Marriage Made in Heaven 49:48
18 Patricia Arquette - Here with You 54:58
19 Chris Mulkey - Blue Highway 57:17
20 Gorillaz feat. Dennis Hopper - Fire Coming Out of a Monkey's Head 01:00:32
21 Jeremy Irons - Make You Feel My Love 01:03:45
22 Rebekah Del Rio & The Section Quartet - The Star Spangled Banner 01:07:18
23 Dubblestandart Meets David Lynch & Lee Scratch Perry – Chrome Optimism 01:09:27
24 Ben Folds & Alicia Witt - Cold Turkey 01:15:22
25 David Duchovny - Another Year 01:18:39
26 David Bowie - Dollar Days 01:23:26
08 juin 2016
🎵 LYNCHLAND MEMBERS MIXTAPE #1 🎶
A few weeks ago, we asked our Lynchland members to share their musical creations with us. We didn't anticipate receiving such a positive response : about one hundred songs were submitted, and we had a very difficult time choosing only fifteen to appear in this first mix. Many thanks to all participants, and if your song doesn't appear here, don't worry, there'll be more members mixes in the coming months on David Lynch / Lynchland !
► Listen to Lynchland Members Mix #1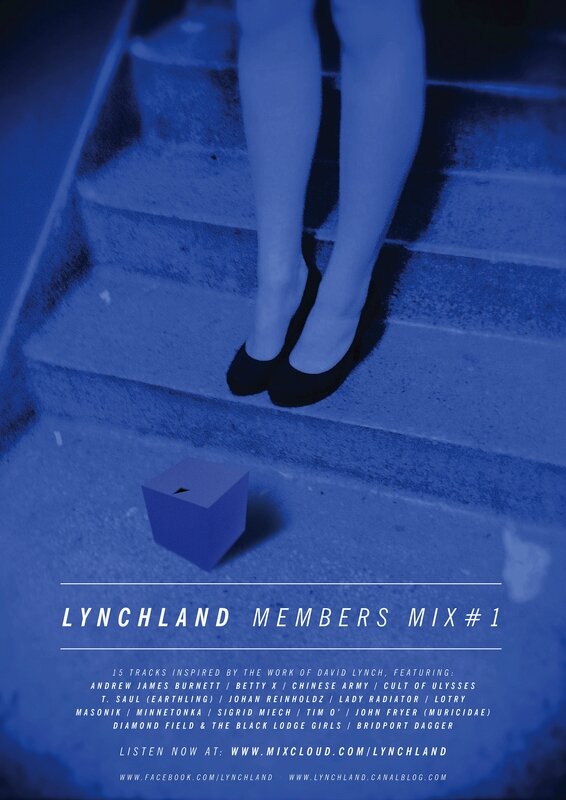 Thanks to John Fryer from This Mortal Coil, who submitted a fair amount of fantastic tracks for us to chose from ; to Johan Reinholdz, from the great metal band Andromeda ; to Betty X, who provided an unrelased extended version of "Watcher on the Threshold" and to Kevin Wolzt, who helped with the sound design.

A special thanks to Andrew B. White, who created the cover art and appears in the mix as Diamond Field, a great synthwave project that we highly recommend.
TRACKLIST

01 Lady Radiator - In Heaven 00:00
02 Cult of Ulysses - Confusion in the Pink Room 03:22
03 Betty X - Watcher on the Threshold 05:53
04 Tim O - The Lounge Chair Clique 12:25
05 ŁOTRY - In the Woods 16:33
06 Sigrid Miech - Flavour Hair Doll 20:02
07 T.Saul - Oblique D'Amour - 23:34
08 Muricidae Music (John Fryer) - Real Slow 27:10
09 Masonik - Billy Moore 30:53
10 Andrew James Burnett - The Novelist: Solitary Confinement 37:23
11 Johan Reinholdz - Sa Salas 41:00
12 Diamond Field & The Black Lodge Girls - Burning Blood 44:54
13 Bridport Dagger - Lyra 51:35
14 Chinese Army - Pink Rain 54:59
15 MiNNETONKA - Bird of Prey 58:36
14 février 2016
En décembre 2001, quelques mois à peine après avoir obtenu le Prix de la Mise en Scène au Festival de Cannes pour Mulholland Drive, David Lynch se lançait dans l'aventure de l'Internet, terrain alors relativement vierge en matière de création artistique. Séduit notamment par la liberté et les possibilités des caméras numériques, il fut l'un des "pionniers cinématographiques" du Web et déploya sa créativité de manière inventive sur la "Toile" cinq années durant, avant de retourner au cinéma avec Inland Empire, son dernier film en date, d'ailleurs nourri de ses expérimentations sur Internet. Cet Opus #5 de Lynchland, construit notamment avec le concours de l'équipe de David Lynch, se propose de retracer quelques jalons de cette aventure hors du commun.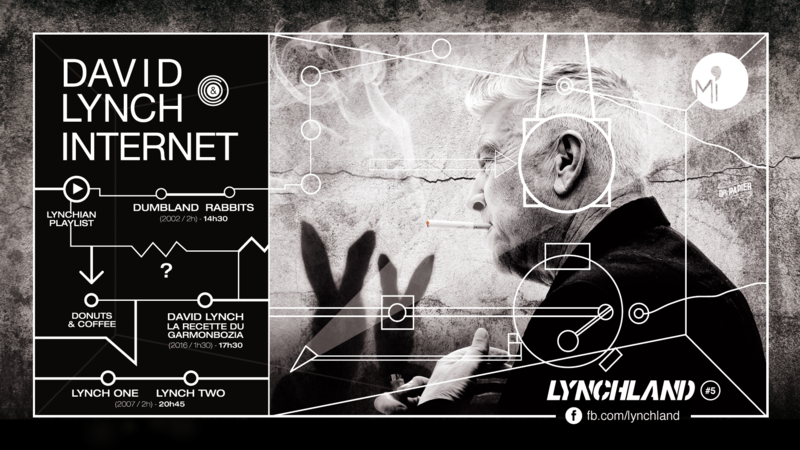 DUMBLAND & RABBITS (2002 / 2h) - 14h30
Dumbland et Rabbits sont les deux "web-séries" les plus emblématiques du travail entrepris par David Lynch sur son site davidlynch.com : toutes deux sorties sous forme de feuilleton hebdomadaire en 2002, elles sont cependant aux antipodes l'une de l'autre. "Dumbland" est une série animée de huit épisodes qui explore la face sombre de l'Amérique avec un style cru et burlesque, autour d'une figure centrale, Randy, Américain "redneck", bouseux mal dégrossi. « Dumbland est une série rustre, idiote, violente et absurde. Si elle est drôle, c'est que nous y voyons bien son absurdité. » (David Lynch)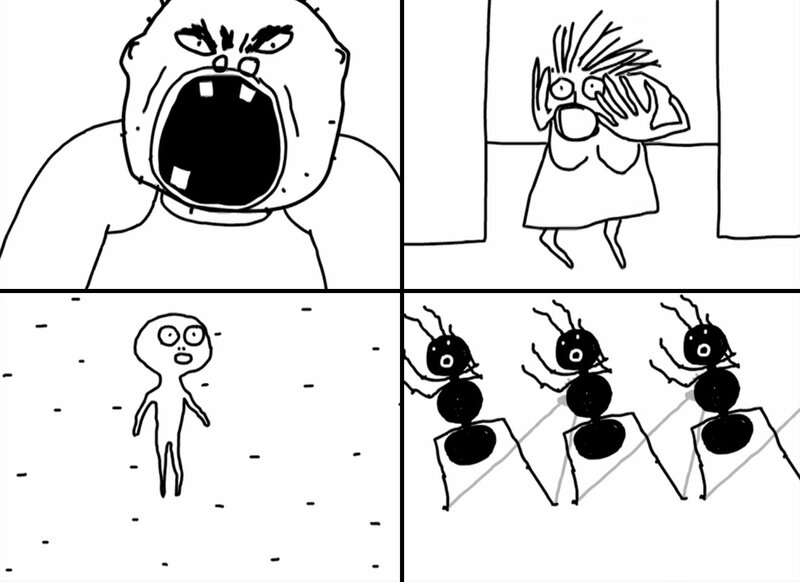 Rabbits, par contre, comprenant également huit épisodes, est un "feuilleton" qui détourne les règles du soap-opéra et crée un climat variant entre comédie teintée d'angoisse et film fantastique aux tonalités kafkaïennes. Notamment interprété par Naomi Watts et Laura Elena Harring, les deux actrices de Mulholland Drive, Rabbits était présenté ainsi par David Lynch : « Dans une ville sans nom, sous le déluge d'une pluie sans fin, trois lapins vivent un mystère effrayant. »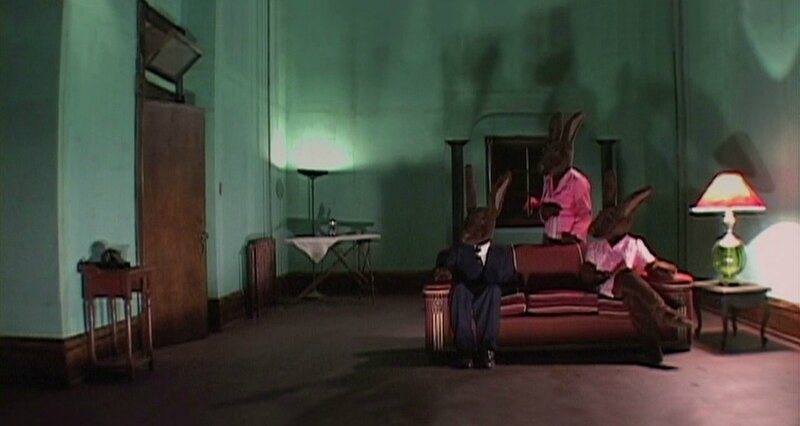 Dumbland et Rabbits sont présentés en exclusivité aux Montreurs. Cette séance sera complétée par d'autres projections et plusieurs surprises lynchiennes ! Durée indicative : 2h
_________________
DAVID LYNCH - LA RECETTE DU GARMONBOZIA (2016 / 1h30) - 17h30
On emploie souvent le terme "lynchien", mais que veut-il dire exactement ? N'est-il pas devenu un moyen de qualifier tout et n'importe quoi, à partir du moment où une oeuvre n'est pas comprise ? "Creepy as Sh*t" et "Twin Picks" [sic], deux chaînes YouTube établies à Bordeaux, vous proposent de faire un peu de cuisine en analysant les ingrédients qui donnent cette saveur particulièrement unique aux oeuvres du cinéaste. En décortiquant les codes, les répétitions, les techniques narratives et de mise en scène, cette émission tente de déchiffrer la formule du fameux Garmonbozia, mystérieux composant de la filmographie de David Lynch.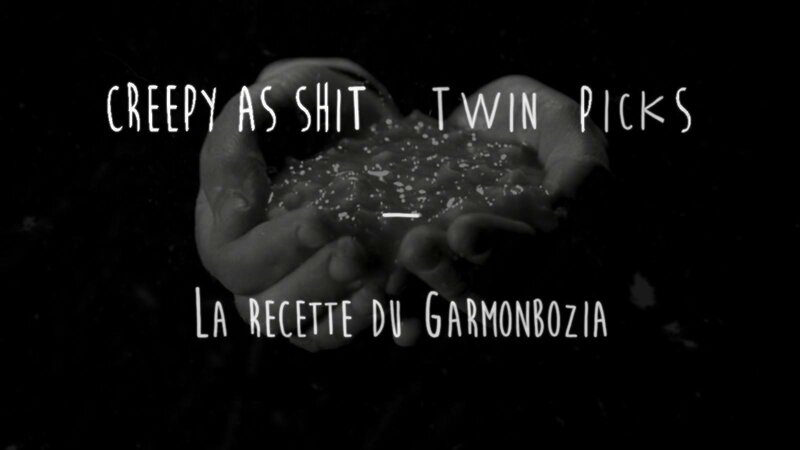 Les réalisateurs (multiples !) seront présents à la fin de la séance pour échanger avec le public.
__________________
LYNCH ONE & LYNCH TWO (2007 / 2h) - 20h45
Réalisés par Jon Nguyen et Jason S., réalisateurs proches de David Lynch, ces deux documentaires sont conçus comme les deux premières parties d'une trilogie consacrée au cinéaste. Inédits en salle en France et réalisés sur une période de deux ans englobant le tournage de Inland Empire (2006), dernier film en date de David Lynch, ces documentaires dressent un portrait intime d'un artiste au travail, dans le domaine du cinéma mais aussi de la peinture, de la sculpture, de la musique et de l'écriture.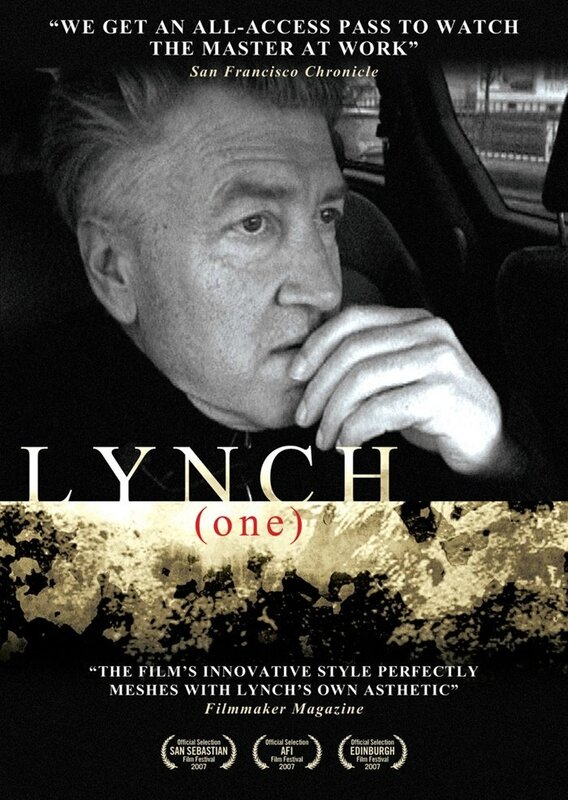 ---
ENGLISH SHORT VERSION
"Lynchland #5" will be dedicated to the early years of David Lynch on his website www.davidlynch.com in the early 2000's. Built with the collaboration of David Lynch and his assistants, "Lynchland #5" will screen the whole series of Dumbland and Rabbits, a Lynchland short documentary about the DL.COM years, a French YouTube Channel exclusive documentary about David Lynch's films, Garmonbozia's Recipe and Lynch One & Lynch Two, the first two docs directed by Jon Nguyen and Jason S.
Plus discussions, many surprises, an homage to David Bowie, lots of coffee, donuts and even some "lynchian sandwiches" !