🎵 LYNCHLAND MEMBERS MIXTAPE #1 🎶
A few weeks ago, we asked our Lynchland members to share their musical creations with us. We didn't anticipate receiving such a positive response : about one hundred songs were submitted, and we had a very difficult time choosing only fifteen to appear in this first mix. Many thanks to all participants, and if your song doesn't appear here, don't worry, there'll be more members mixes in the coming months on David Lynch / Lynchland !
► Listen to Lynchland Members Mix #1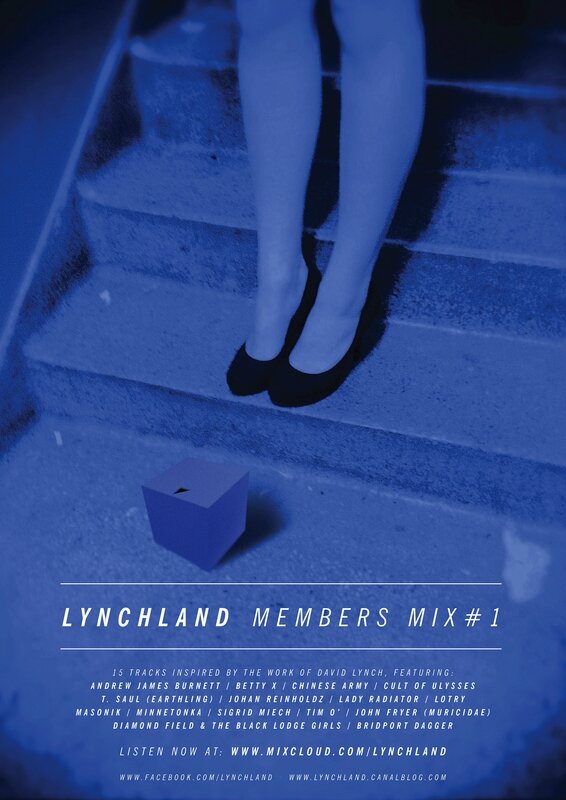 Thanks to John Fryer from This Mortal Coil, who submitted a fair amount of fantastic tracks for us to chose from ; to Johan Reinholdz, from the great metal band Andromeda ; to Betty X, who provided an unrelased extended version of "Watcher on the Threshold" and to Kevin Wolzt, who helped with the sound design.

A special thanks to Andrew B. White, who created the cover art and appears in the mix as Diamond Field, a great synthwave project that we highly recommend.
TRACKLIST

01 Lady Radiator - In Heaven 00:00
02 Cult of Ulysses - Confusion in the Pink Room 03:22
03 Betty X - Watcher on the Threshold 05:53
04 Tim O - The Lounge Chair Clique 12:25
05 ŁOTRY - In the Woods 16:33
06 Sigrid Miech - Flavour Hair Doll 20:02
07 T.Saul - Oblique D'Amour - 23:34
08 Muricidae Music (John Fryer) - Real Slow 27:10
09 Masonik - Billy Moore 30:53
10 Andrew James Burnett - The Novelist: Solitary Confinement 37:23
11 Johan Reinholdz - Sa Salas 41:00
12 Diamond Field & The Black Lodge Girls - Burning Blood 44:54
13 Bridport Dagger - Lyra 51:35
14 Chinese Army - Pink Rain 54:59
15 MiNNETONKA - Bird of Prey 58:36